Valentine's Day Game Plan… do you have what it takes to melt her heart?
Yes Men, Super Bowl Sunday is upon us and right after that comes Valentines Day.  I know what your thinking ' ugh, not this again – romantic bs '.  But it doesn't have to be painful.  Here are some ideas to get your GAME ON: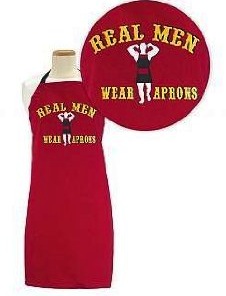 – Traditionalist:  making dinner reservations and bringing her flowers.  Yes, this is the safe strategy…..but yawn boring.  Surprise her by wearing the apron. Cooking her a nice meal at home, trust me she will be head over heels.
– Cooking Class:  you enjoy cooking together but need a little inspiration.  Sur la Table is the place for you, register now as spaces will fill up fast.
– Sweet Tooth:  Your girl likes chocolates?  Surprise her by hand delivering to her office with a nice box of chocolates from La Maison du Chocolat  (my fav).  Her cheeks will really flush if you are the one delivering instead of a service and her colleagues will be giggling like lil' school girls.   Or does she like the quirky kind of sweets, check out these rice krispie treats at Treat House.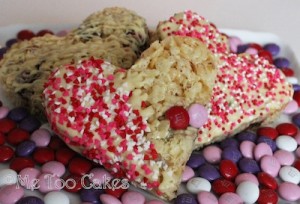 If you are a DIY kind of guy – you can make your own rice krispie treat hearts, use a cookie cutter to cut out the heart shapes.
– Lingerie:  Need I say more.  This is a gift for both of you.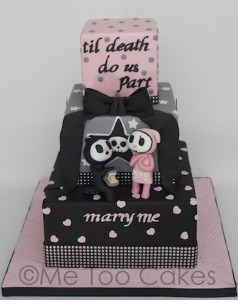 – Proposing needs a lot more time to plan than two weeks.  Make it special and meaningful.  If this Valentine's day seems like the most appropriate opportunity to sweep your girl off of her feet and you can't imagine yourself spending one more day not engaged to your lovely woman.  It's 2014 and Women know what they want.  Postpone the diamond ring tradition and propose with a right hand ring.  Something she can wear down the road on her right hand and after she screams "YES" go shopping together for that PERFECT RING.  If she loves to Laugh, play it silly with a ring pop, box of custom cookies, custom cake or DIY – make edible rings with Gusher's Candies.  Follow the directions on this blog post by Gourmetmom.  Be forewarned…she may have a questionable look on her face, just explain right away that you want to find her a ring that she will LOVE forever, just like your relationship.
(below: cookie – Me Too Cakes, Ring – Swarovski Dazzle Ring, Gusher's ring pop – Gourmetmom)