Now that the kids are out of school – think about spending some quality time with the kids in the kitchen by making some old family recipes.  My favorite cookie that my Great Aunt Amelia and Grandma Landini use to make were Apricot Fold Over cookies.  Not too sweet, just right – I LOVED THEM!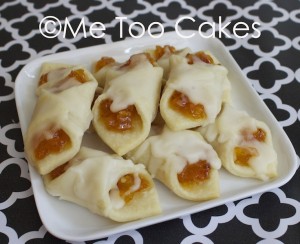 Recently, I made these delightful cookies to thank a Landini family for their hospitality over Memorial Day weekend and shared the recipe so they could pass on to the next generation.  I was thinking of my relatives as I was making these cookies.
With all the processed foods out on the market, please don't let family recipes die when your loved ones pass.  Keep them alive by making them with your kids so the recipes can be passed on from generation to generation….