Congratulations You Got Married!       
You had an elaborate cake with beautiful handmade sugar flowers…now what to do with the flowers?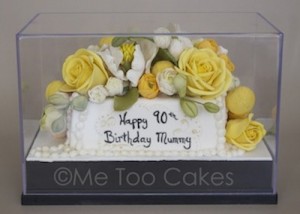 Ask your reception site to keep the flowers from your wedding cake so you can use them to make gifts for your mother and mother-in-law or a keepsake for yourself. Sugar flowers will keep for a lifetime as long as they are not exposed to extreme humidity and a plastic display case will keep them dust free.  A common misconception is to store the sugar      flowers in the refrigerator.  This is not the case since sugar flowers are dried and storing in the refrigerator will cause them to collect condensation.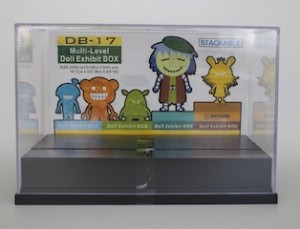 Step 1:  Find a nice size display case. I like the doll exhibit box at Container store for $10.
Dimensions:  10″ L X 5 2/5″ W X 6 4/5″ H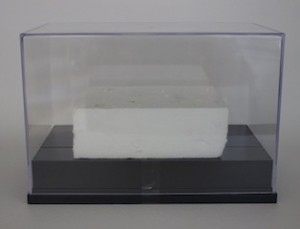 Step 2:  Cut a styrofoam block to fit inside the box, but leaving ample room for the size of sugar flowers to fit in the box.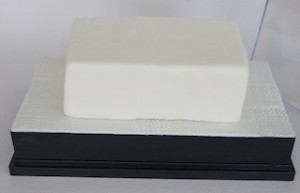 Step 3:  Cover the top portion of the base and styrofoam with fondant.  You can use a light mist of water to allow the fondant to stick to the styrofoam.  You can add a stamp or design to the top portion if you like or leave smooth.  Allow to dry overnight so that when pushing the sugar flowers into styrofoam the block does not move around.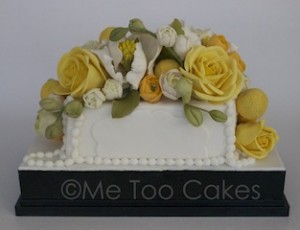 Step 4:  Arrange flowers, checking frequently to make sure the plastic box will fit properly over the flowers.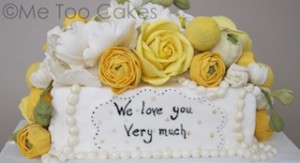 Step 5:  Personalize the gift and you can add ribbon around the box once the plastic cover is fixed into place.