Figurines of the Bride and Groom were quite traditional back in the day.  Then sugar flowers swooped in and stole the show.  But in the past couple of years rising artists have emerged producing incredible Cake Toppers that can really add personality, character to the cake by customizing to the couples imagination.  So the question you may ask yourself, "should I use a cake topper in my cake design or not?"  I say GO FOR IT!  If it suits your personality and the couple can agree on a design.  It is so much fun to add character to your wedding cake and let it shine – be unique – have fun with your wedding cake.
Some of my favorite companies are Lulu Amour, Angel Devil Land and now Kokeshi Clan… after this weekends cake.
I can remember back to my own reception (long, long time ago)… On the dessert table along with the wedding cake, I included Designer Vynl "Puppydog of the Dead and Pussycat of the Damned" (by Angel Devil Land) as my topper on a pyramid of profiteroles.  My take on the classic French Croquembouche.  Keep in mind that I was getting married and made this a day ahead.  Let's just say a lot of the caramelized sugar melted in the walk-in that night and looked less desirable.  But still tasted yummy!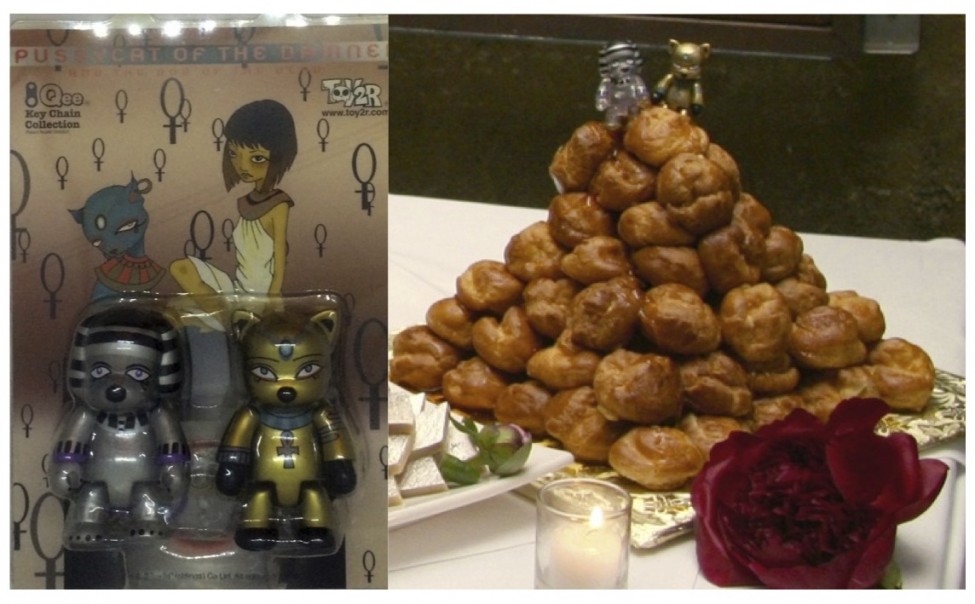 You can view more cake toppers I have pinned on Me Too Cakes – Pinterest board.  If you are wondering which has been repinned the most – it would be the Vinylmation Bride and Groom.  If you have a favorite Cake Topper company you would like to share, please comment below.
Thanks!!