What elements can inspire a little boys birthday cake?  favorite toys, decor for the party, favorite candy or treats, pets, maybe even favorite places if the child likes to spend the entire summer on the beach building sand castles.
This particular birthday boy loves Trains and the Zoo, Giraffes are his favorite.  Working with his mother we pulled ideas around this theme and she sent me all the elements of the party decorations.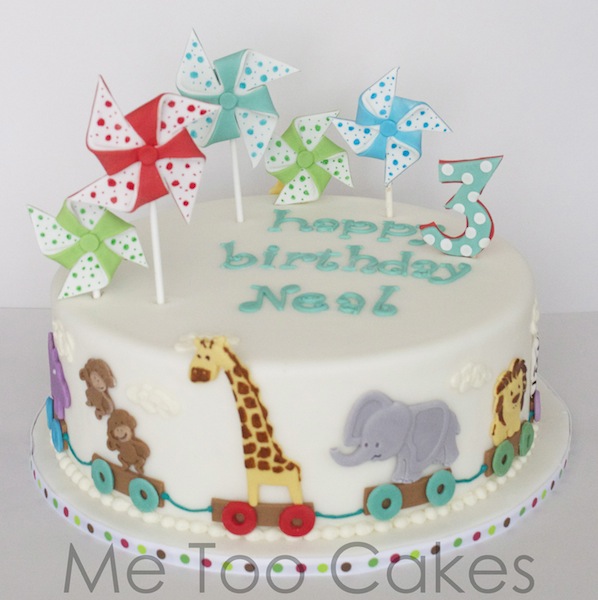 Let's just say the cake was a huge hit at the party.  The mother emailed me later "Everyone adored the cake!!! Not only that they were in awe with the decoration but also the taste of the chocolate cake with strawberry filling. Neal was starring, hovering in admiration of the cake for about 20-30 min. He looked at each animal and the pin wheels. I could see how much he liked the cake.  He made sure that everyone was aware of his Birthday cake. Before his music teacher left after sing a long, he said, "I wanna show Michael my birthday cake!"
If you are looking for a kid's party event space definitely check out The Moxie Spot – 81 Atlantic Avenue Brooklyn, NY  http://www.themoxiespot.com/
Upon delivery I happened to notice that a tv had Miss Spider and the Sunny Patch Kids on.  Too bad I had another delivery, maybe I would have stayed and watched an episode….next time.